Brendon Boyd Urie (born April 12, 1987) is an American singer, songwriter, and musician, best known as the lead vocalist of Panic! at the Disco, of which he is the only member remaining.
Early life
Urie was born in St. George, Utah, and his family moved to Las Vegas, Nevada, when he was two years old. He is the fifth and youngest child born to Grace and Boyd Urie. He is of about one quarter Polynesian descent from Hawaii, through his mother's side. He was raised in an LDS family, but left the faith around 17 due to displeasure with the church and not believing in its ideology. Urie attended Palo Verde High School in Las Vegas, where he met future Panic! bassist Brent Wilson in his guitar class. Wilson asked Urie to try out for a band he was in, since they needed a replacement guitarist.
Urie described himself as a "spaz in high school," and explained that one student would always bully him. He worked at Tropical Smoothie Cafe in order to pay his band's rent for their practice space. At the cafe, Urie often sang for customers. He explained, "I would sing anything I was listening to at the time, but I was down to take requests. I remember singing some Scorpions songs, some W.A.S.P. 80s anthems are usually good for tips. It was a huge range of stuff. Some people liked it, and some people didn't. I had to respect other people's wishes, but I had a couple people come in who would ask me to sing for a tip. That's always fun."
Personal life
In September 2011, it was announced that Urie was engaged to Sarah Orzechowski. The couple got married on April 27, 2013.
In 2013, Urie said that he had "experimented" with men but stated, "I guess if I had to classify myself, I'd say I'm straight." In July 2018, Urie described himself as pansexual and stated, "I'm married to a woman and I'm very much in love with her but I'm not opposed to a man because to me, I like a person. ... If a person is great, then a person is great". The song "Girls/Girls/Boys" kind of gives a hint. Yes, the song was about a threesome he had. the song turned instantaneously into an LGBTQ+ Pride anthem.
He also suffers from ADHD and anxiety, which causes him to wear over-the-top tight leather pants when he goes on stage. In August 2020, Brendon Urie and Zack Hall got allegations from sexual assult to harrassment from many fans, this resulted as a three month hiatus from the public and Urie later, reveled that Hall was no longer working with Panic! At the Disco and that some stories were false, so he apologized for his actions.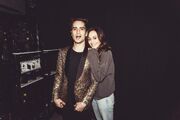 Gallery
Main article: Brendon Urie/Gallery
Community content is available under
CC-BY-SA
unless otherwise noted.