Brent Matthew Wilson (born July 20, 1987[1]) is a retired American musician who served as the original bassist of Panic! at the Disco. He recorded one album with them before he was fired for "lack of responsibility".[2] He was in the band from 2004 - 2006. He played shows with the band from August 2005 - May 2006, including shows in Japan, Germany, France, and 2 UK tours.
Panic! at the Disco career
Wilson had played with Ryan Ross and Spencer Smith in their previous bands Pet Salamander and The Summer League. He met Brendon in guitar class and asked him to join their band.
P!ATD commenced touring in August 2005, a month before the release of their debut. The band met Jon Walker in January of 2006 while supporting The Academy Is... on a tour of the UK, where Walker was working as a guitar tech for The Academy Is...The band got on well with Walker and Panic spent all of February and March on a tour of the U.S with The Academy Is, where Walker and the rest of the band would spend a lot of time together, whereas Brent didn't spend as much time with the rest of the band. In mid-May, after playing a headlining UK and European tour, the rest of the band decided to get Walker in the band to replace Wilson. His last performance with the band was at the Bamboozle Festival on May 7, 2006.
It was announced on May 17 that Brent was no longer a member of the band. He stated that he didn't want to leave and it was a complete surprise to him. In an interview with Alternative Press in 2008, he said "I think the reason why [Panic] got the perception I wasn't into doing things that bands do is because I'm a very private person. A lot of times I would be spending time by myself, or there would be times when my brother or other family members would come to shows. I'm very close with my family, so there would be times where I would be with them rather than hanging out with the band. As far as I'm concerned, that's just keeping sanity." He has also kept in touch with Spencer as he says "I hung out with Spencer [Smith] recently. He's awesome. I'm not bitter - I wish them all the best."
He mainly used Rickenbacker basses. After exiting the band, he gave up playing music and studied at college, later becoming an accountant. Since his departure, Panic! has had two official bassists: Jon Walker (2006-2009), and Dallon Weekes (2009-2017).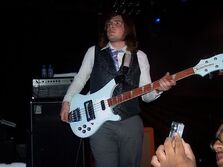 Credits
A Fever You Can't Sweat Out - bass
References
Community content is available under
CC-BY-SA
unless otherwise noted.