"
But It's Better If You Do
" is the ninth track on
Panic! at the Disco's
debut album,
A Fever You Can't Sweat Out
. It has a running time of
3:25
.
But It's Better If You Do
[[1]]
Single by Panic! at the Disco

Released:

May 16, 2006 (UK) July 5, 2006 (U.S.)

Format

CD

Recorded

Dang! Studios (Lewisville, Texas)

Genre

Alternative rock, emo, pop punk

Length

3:25

Label

Fueled by Ramen, Decaydance

Writer(s)

Ryan Ross

Producer

Matt Squire
Song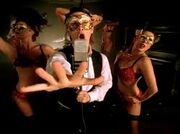 The song was relesed on May 4, 2006 and was written by
Ryan Ross
as a CD single. It was the third single to be relesed, and the second to be relesed with a music video.The concept of the song is "about being in a strip club but not actually liking being in there. So I wanted it to be about the sort of complex inner-monologue," he said. "It's not completely fiction, though. It's based on a scenario when I was going through a breakup with a girl. Because in reality, I don't like strip clubs. I think they're kinda perverted," says
Ryan Ross.
Ryan also said
| | | |
| --- | --- | --- |
| " | When I wrote it, I never thought about it being played in strip clubs. But I guess it would be kind of a change from what they usually play in there. It would be a surreal experience, for sure. I think the tempo is too fast, though. So maybe someone would have to do a Chopped and screwed version or something. | " |
The title was quoted from the movie "
Closer
" in which the character portrayed by
Natalie Portman
says:
Lying is the most fun a girl can have without taking her clothes off... but it's better if you do
". Lying is the Most Fun a Girl Can Have Without Taking Her Clothes Off which is also the name of a Panic! At The Disco song.
Lyrics
[Verse 1]
Now I'm of consenting age to be forgetting you in a cabaret.
Somewhere downtown where a burlesque queen may even ask my name
As she sheds her skin on stage
I'm seated and sweating to a dance song on the club's P.A.
The strip joint veteran sits two away
Smirking between dignified sips of his dignified peach and lime daiquiri

[Chorus]
And isn't this exactly where you'd like me
I'm exactly where you'd like me, you know
Praying for love in a lap dance and paying in naivety
Oh, isn't this exactly where you'd like me
I'm exactly where you'd like me, you know
Praying for love in a lap dance and paying in naivety

[Verse 2]
But, but I'm afraid that I
Well, I may have faked it
And I wouldn't be caught dead in this place
Well, I'm afraid that I
Well, that's right, well I may have faked it
And I wouldn't be caught dead in this place

[Chorus]
And isn't this exactly where you'd like me
I'm exactly where you'd like me, you know
Praying for love in a lap dance and paying in naivety
Oh, isn't this exactly where you'd like me
I'm exactly where you'd like me, you know
Praying for love in a lap dance and paying in naivety

[Bridge]
Well, I'm afraid that I
Well, I may have faked it
And I wouldn't be caught dead in this place
Well, I'm afraid that I
Well, that's right, well I may have faked it
And I wouldn't be caught dead in this place

[Chorus]
And isn't this exactly where you'd like me
I'm exactly where you'd like me, you know
Praying for love in a lap dance and paying in naivety
Oh, isn't this exactly where you'd like me
I'm exactly where you'd like me, you know
Praying for love in a lap dance and paying in naivety

[Outro]
Praying for love and paying in naivety
Praying for love and paying in naivety, oh